About Fort Wayne Bonsai Club
Mission Statement
The Fort Wayne Bonsai Club strives to cultivate knowledge and bonsai artistic talent, to encourage the use of multiple species in the art of bonsai, and to teach good horticultural and bonsai artistic techniques. We create public awareness and appreciation for bonsai and inspire members of all ability levels. We provide workshops by experienced bonsai practitioners that promote hands-on learning. We see bonsai as a timeless art form that requires patience. Like our trees, we believe that our members deserve patience and attention.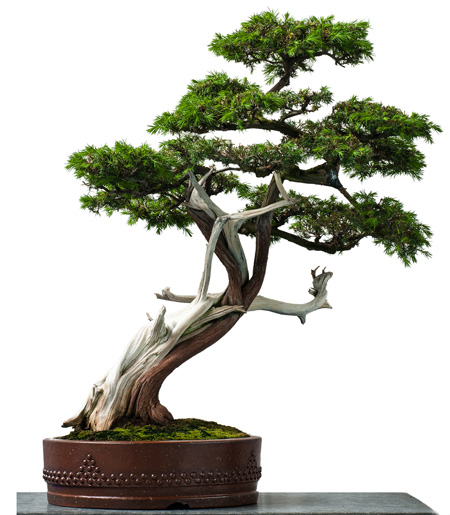 Testimonials
I've read books, watched videos and practiced on my own before joining. I should have joined FWBC sooner!

Winamac, IN
Club meets every third Saturday on most months.
Meetings are at libraries, homes or the Fort Wayne Botanical Conservatory
Meetings begin at 10:30am and end approximately at 12:30pm
Light refreshments may be provided by members on a rotational basis.
Short business meeting to gain member ideas into program planning and the work of the club.
Educational programs on most months.
Nursery or Show road trips on occasion.
Several workshops throughout the seasons.
Monthly newsletter.
Member discounts on soil, fertilizer cubes, etc.
December Holiday luncheon.
How To Join
To join you can just attend any of our club meetings with either cash or check for membership dues and you will be added to the email list and receive our monthly newsletter and get website access to our members only section!
Co-Presidents:
Steve Moore | Vic Rebman | Nathan Herrli
Vice President:
Bob Mortenson
MABA Representative:
Steve Moore
Recording Secretary:
Susan Braun
Asst. Recording Secretary:
Open
Membership Secretary:
Trish Young
Newsletter Editor:
Lisa Neuenschwander
Annual Spring & Fall Shows
Spring and Fall shows at the Foellinger-Freimann Botanical Conservatory.
See website for Calendar of Events
Paid member are welcome to display bonsai trees and suiseki, regardless of experience.
Opportunity to educate public about the horticulture and design art associated with growing and displaying bonsai.
Pre and starter bonsai are available to buy from club members. Some pots, tools and soil may be available for purchase.
Pre and starter bonsai, small pots, soil and screen/wire kits are available year round in the gift shop at the conservatory.