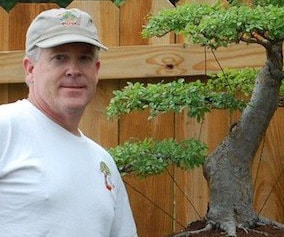 At the Conservatory, in the Magnolia Room.
Room will be open at 9:30am
Cost for participants is $45. But all participant spots are full. (It's always possible someone will drop out at the last minute.)
Silent observers pay $5, and there's no limit on the number there.
Mark is going to bring along a few of his own trident maple bonsai – and he specializes in the species, – and give us a talk on trident maples as a species and for bonsai. This is for both participants and silent observers.
We will then move into the working session. Be sure to bring your tools. Even though there will be no repotting, we intend to do everything else the trees are ready for. (Observers, don't forget a camera, and I recommend a means to take notes.) This will take up the bulk of the day.
Understand that the trident maples come first. Once all work on them is finished for the day, Mark is willing to critique any other trees which members want to bring in for his attention. He'll take as many as he can before 6 PM. Our usual rule about taking everyone's first tree before any second trees are looked at will apply.
If you're a paid participant in the workshop, there will be no additional charge for bringing a tree for critique. (Though you still have to wait until everyone is done with the trident maples.) If you're a paid observer, the critique cost will be $20.
Workshop-related fees should be paid to Ed Hake. Remember, we can't take plastic. Checks should be made out to "Fort Wayne Bonsai Club". Ed also accepts cash.